Mofurun noticed that this article lacks content or has faulty grammar and information.
She says you can help by
editing
this stub!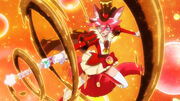 Chocolat Aromase (ショコラアロマーゼ, Shokora Aromāze?) is Cure Chocolat's first attack that she performs in episode 15 to stop Julio. To perform the attack, she must have her Candy Rod.
Description
Cure Chocolat presses the red star on the rod which makes a chocolate tornado like drill consume the object.
Incantation
Japanese
Cure Chocolat: キラキラキラル☆ショコラアロマーゼ!
Romanization
Cure Chocolat: Kirakirakiraru☆Shokora Aromāze!
Transliteration
Cure Chocolat: Kirakirakiraru☆Chocolat Aromase!
Gallery
Trivia
While Cure Chocolat uses the attack, her character song, Chocolat・Etoile, plays in the background.
Video
Community content is available under
CC-BY-SA
unless otherwise noted.