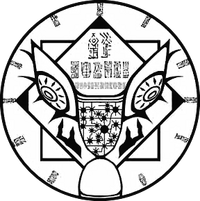 Criasu Corporation (クライアス社, Kuraiasu-sha?) is an evil company and the main villains in HUGtto! Pretty Cure. Their goal is to acquire all the Mirai Crystals and extinguish the world's future by freezing time so everyone can have "eternal happiness," according to George Kurai.
Although they have many more employees, most of the season's villains are from the Azababu branch office.
History
It is not known when the company was founded. The Azababu branch office was established in 2018.
The Criasu Corporation was responsible for taking away Hugtan & Harry's world's future. It was thanks to the White Mirai Crystal that the two escaped. The company is pursuing them to acquire the Crystal.
It was disestablished as of episode 48 when George Kurai was defeated, with its employees being purified by the Cures throughout the season.
As revealed in the new future in episode 49, by going back in time to save her own future, Hugtan prevented Hagukumi City's time from being stopped along with Criasu Corporation's existence in the original timeline from ever happening to begin with.
Staff
Name
Image
Position
Oshimaida

Monsters summoned using Prickly Powerer
Ruru

Part-timer, defected to the Cures in episode 17
Charaleet

Chief clerk, fired in episode 6. Purified in episode 11
Gelos

Hired as an executive in episode 21.
Promoted to General Manager in episode 24,
purified in episode 45
JinJin & Takumi

Bodyguards of Gelos, purified in episode 31
Papple

Section chief, purified in episode 22
Daigan

Head of Azababu branch office.
Severely injured in episode 23 by Doctor Traum,
but revealed to be saved and purified in episode 24.
Listol

Secretary of president Kurai, purified in episode 47
Doctor Traum

Appeared as Counselor in episode 23, purified in episode 37
Bicine

Hired as Customer Specialist in episode 24, purified in episode 47
George Kurai

Company president, purified in episode 48
Etymology
暗い (Kurai, 暗い?) means "dark" or "gloomy", 明日 (asu, 明日?) means "tomorrow". クライアス社 (Kuraiasu-sha, クライアス社?) can be translated as "Gloomy Tomorrow Company".
Trivia
Gallery
Setting Design
Screenshots