Mofurun noticed that this article lacks content or has faulty grammar and information.
She says you can help by
editing
this stub!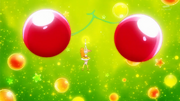 Custard Illusion (カスタードイリュージョン, Kasutādo Iryūjon?) is Cure Custard's first attack that she performs in episode 13 to stop Julio. To perform the attack, she must have her Candy Rod.
Description
Cure Custard first twirls the Candy Rod like a baton, throwing it up and catching it again. She then holds it up, spins the glass ball and shouts the incantation. Then she spins around, summoning a yellow circle of light that moves upward and grows. Two huge cherries appear from the circle that smash together and burst into a bunch of yellow lights. The lights are then fired at the target.
Incantation
Japanese
Cure Custard: キラキラキラル☆カスタードイリュージョン!
Romanization
Cure Custard: Kirakirakiraru☆Kasutādo Iryūjon!
Transliteration
Cure Custard: Kirakirakiraru☆Custard Illusion!
Trivia
Gallery
Video
Community content is available under
CC-BY-SA
unless otherwise noted.