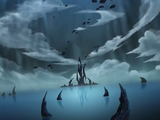 Dark Fall (ダークフォール, Dāku Fōru?) is a parallel world, a dimension of evil that encroached on the spirit world, Land of Fountains and the home place of the villains from Futari wa Pretty Cure Splash Star.
Dark Fall can be reached from the Land of Greenery via the Dark Slough. Akudaikan is the ruler of this place and the leader of the organization. He usually sits on a throne in the middle of a lake inside a cave.
Goyan has a separate house in a different area outside the cave surrounded by an ocean.
History
The "Dark Fall" consists of elemental beings that took over the Land of Fountains. Each of the fountains were destroyed by Goyan and Akudaikan. As the fountains were destroyed the members of Dark Fall took control of them and became their new guards. They are also trying to get to the Fountain of Sun, as that was the fountain the Sky Tree took most of it's power from. Without it, the world would be in darkness and lifeless.
Once Flappy and Choppy found the Pretty Cures, Dark Fall would soon send its minions to defeat them. One by one failing to do so, and disappearing. After the Fairy Charafe was stolen, each of the minions were revived and teamed up against the Cures. Pretty Cure managed to defeat all of them and soon made their way to Akudaikan. It turned out that Goyan had actually created Akudaikan for the purpose of regaining power until the time when Pretty Cure had to fight him. With the revived and purified Michiru and Kaoru, Pretty Cure used Spiral Heart Splash Star to defeat Goyan. With this attack, Goyan was defeated, and as a result Dark Fall became defunct.
Though the subordinates were defeated, it seems they still exist on in spiritual forms and can be easily revived. Moerumba in particular proved to exist on despite his defeat and disappearance in episode 13.
Characters
Minions
Uzaina The physical form of the Dark Fall's power. Uzainaas are monsters created from fusion of an object and a Miracle Droplet corrupted by the Dark Fall. Upon their defeat, elemental spirits are released to thank Pretty Cure.
Gallery