Mofurun noticed that this article lacks content or has faulty grammar and information.
She says you can help by
editing
this stub!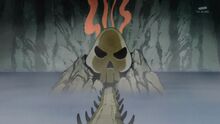 The Dark Magicians (闇の魔法つかい, Yami no Mahō Tsukai?) are the main antagonists of the Magic World in Mahou Tsukai Pretty Cure!. Their goal is to claim the Linkle Stone Emerald to conquer all the magic.
History
Members
Minions
Trivia
The three generals, as well as Yamoh, have appearances based on different animals.
Yamoh, Batty, Sparda and Gamettsu all made cameo appearances in episode 29, albeit as characters in the "Cinderella" story.
Gallery
Community content is available under
CC-BY-SA
unless otherwise noted.