Mofurun noticed that this article lacks content or has faulty grammar and information.
She says you can help by
editing
this stub!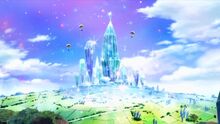 The Garden of Hope (希望の園, Kibō no Sono?) is a world revealed in Futari wa Pretty Cure Max Heart: The Movie. It is a one huge crystal-shaped planet, with sapphire skies, emerald grass and diamond buildings. The Queen of the Garden of Hope rules this place from her sparkling palace and the protector of the Fountain of Hope, the Kero-Kero God, guarding this world and all worlds hope from dark powers.
Description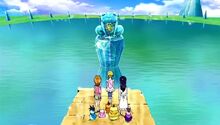 The Garden of Hope is the main source of hope in the Futari wa cosmology and is the main world of Futari wa Pretty Cure Max Heart: The Movie where all the action takes place. As legend says, the Diamond Line, a bracelet, a pendant and 2 earrings made from diamonds, is a sacred treasure, which gives hope all over the universe. If the Diamond Line is stolen, then all the hope is lost and all the worlds (including Garden of Rainbows) will be overflowed with darkness.
The Garden of Hope is a broad expanse of flat land, much of it covered in multi-colored jewels and grassland, that lies between steep cliffs. In the middle of this plane, stands a large building complex, the Queen's palace. Near the palace, on a crystal hilltop, lies a small lake with an emerald statue of the Kero-Kero God, the Garden of Hope's local deity.
For a long time, this world lived in peace and hope which flows without obstacle via Universe. But one of the Dotsuku Zone denizens, malicious Dark Witch plans an attack on the Garden of Hope. Now, combined forces of the Courageous Warriors and Pretty Cure will stand to protect the residents of the Garden of Hope from danger.
Inhabitants
Locations
Queen's palace is an enormous crystal building where the Queen lives. The Diamond Line is also stored there under strict supervision.
The Fountain of Hope is a big round lake near the palace with green-edged coasts and fore-land leading to the statue of the Kero-Kero God.
Gallery
Community content is available under
CC-BY-SA
unless otherwise noted.