Mofurun noticed that this article lacks content or has faulty grammar and information.
She says you can help by
editing
this stub!
Go! Princess Pretty Cure: Go! Go!! Gorgeous Triple Feature!!! (映画 Go!プリンセスプリキュア Go! Go!! 豪華3本立て!!!, Go! Princess Pretty Cure: Go! Go!! Gōka Sanbon Date!!!?) is the 19th movie produced by Toei Animation. The movie was released in Japanese cinemas on October 31st, 2015. The Blu-ray and DVD version of the movie was released on March 16th, 2016.
Summary
The Pumpkin Kingdom's Treasure
Good day! I am Haruno Haruka! We went to a fairyland country called Pumpkin Kingdom after the cafe we were in teleported us there! However, the princess of the country was found to be missing!! Who did this exactly...!? To regain the bright future of the Pumpkin Kingdom, we have to rescue the princess!! Everyone use the power of the Miracle Princess Light!!
Pretty Cure and Refi's Wonder Night!
We are then flown to a country known as the Pumpkingdom, which is sentenced with an eternal nighttime by darkness by Night Pumpkin! And to regain daytime, we have to find a key on a hill known as the Miracle Light,but the Night Pumpkin is trying to stop us! If you do not lose hope, then your wish will absolutely come true! Now everyone, combine your power to bring back Pumpkingdom's light!
Cure Flora and the Mischievous Mirror
An excited Cure Flora is holding nice hair ornaments in her hands. As she carefully opens the hair ornaments, a curtain immediately opens up, resulting in Cure Flora coughing away the dust. When the dust settles down, a mirror is seen before her but the Cure Flora in the mirror is making a strange face....What? Inside the mirror, is there something strange? "Cure Flora" and "Cure Flora inside the mirror"! This is a fun story about a mysterious mirror!
Characters
Pretty Cures
Mascots
Minor Characters
Nanase Yui (

七瀬ゆい

Nanase Yui

?

) - Haruka's roommate as well as her friend. She is a friendly girl who wears glasses. She loves picture books and her dream is to become a children's book author.  
Movie-only Characters
Trivia
Unlike the other movies in the franchise, this movie is divided into three parts, each of which contains a different story.
The CGI used in the final part of the movie is the same as the CGI used in the second ending theme of Go! Princess Pretty Cure.
The movie has pumpkin themes, which coincidentally coincides with Halloween, the date the movie was released.
Despite being placed as the last part on the website, "Cure Flora and the Mischievous Mirror" is actually the first part, followed by "The Pumpkin Kingdom's Treasure" and "Pretty Cure and Refi's Wonder Night!".
Gallery
External Links
Movie Trailers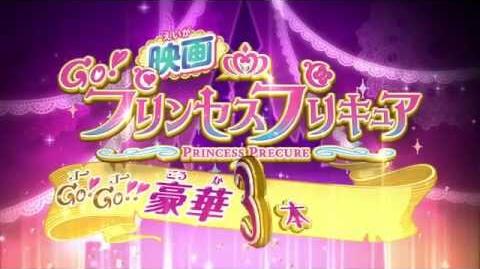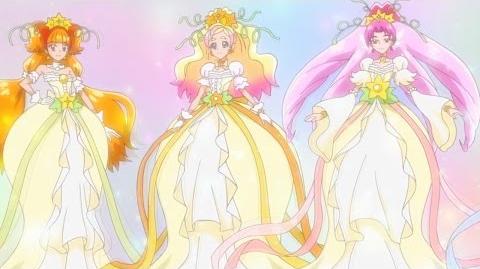 Community content is available under
CC-BY-SA
unless otherwise noted.