Raibaru wa Erika! Engekibu kara no chōsen-jō desu! is the sixteenth episode for the season Heartcatch Pretty Cure!, the seventh season in the Pretty Cure franchise.
Synopsis
Takagishi Azusa, the leader for the theatrical club, arrives and challenges
Erika
and her fashion club to a contest in whose designs are best. While they seem to be enemies, Azusa and Erika are actually on good terms,
despite their very different kinds of leadership.
Azusa judged the designs of Erika that she needs a fabulous rich woman dress to obtain the Drama Club's performance. Then, the Fashion Club students restarted and creates a new design.
The drama students appeared worried and gloomy about Azusa's commands. Unfortunately, they started to quit the Drama Club, and Azusa felt depressed. The next hour, Erika participates to the gi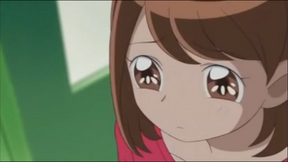 rls' designs and see how fun it was, but Azusa remembered why her drama Club was not diverting.
Cobraja appeared dramatically and steals her Heart Flower to create a show light Desertarian. Chypre and Coffret ran to Tsubomi and Erika, and hen transformed into Pretty Cure. The Drama Club students came to the auditorium and are shocked by Azusa's feelings. Now, Cure Marine uses her Blue Forte Wave to save Azusa.
Azusa woke up and felt confirmed about how her Drama Club became a one-man club. Then, the Drama Club students returned to Azusa, and she felt amazed that they have to work hard by her commands. In comclusion, Azusa and the others performed, while Erika already made her designs perfectly.
Major Events
Takagashi Azusa makes her first appearance.
The other drama students quitted the drama club.
Characters
Kurumi Erika/Cure Marine
Takagishi Azusa
Chypre
Coffret
Cobraja
Snackey
Trivia