Mofurun noticed that this article lacks content or has faulty grammar and information.
She says you can help by
editing
this stub!
Let's Go to the Beach! Itsuki's Lighthearted Summer Camp! (海へゴーです!いつきウキウキ夏合宿! "Umi de Go Desu! Itsuki Ukiuki Natsugasshuku!"?) is the 25th episode of Heartcatch Pretty Cure, and also the 317th episode of the Pretty Cure franchise overall. This episode focuses on the girls and the Fashion Club members going camping at the beach.
Major Events
Synopsis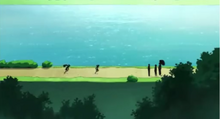 Satsuki was feeling better, so he, Itsuki and their mom are walking outside. Itsuki's mom tells her to go out with her friends more since it's summer vacation. Then they hear Tsubomi and Erika calling Itsuki by her first name and approaching them. They invite her to go to the Fashion Club's summer camp and her mom agrees. Erika is really excited for the trip with Tsubomi having to remind her about the reason they are here: club activities.
When they arrive at the sea, Erika was having fun and others were surprised that the Student Council President is a member of the Fashion Club. Itsuki worries if it was right for her to come, since it is their summer camp after all. Quickly, Erika and Tsubomi help Itsuki change from her school uniform into the dress Erika made. Everyone loves it, even though Itsuki is kind of embarrassed. The girls felt that Student Council President suddenly became Itsuki-san. With everyone's hearts as one, they start having fun. Later Erika told everyone to design a theme for autumn's fashion show with Itsuki worrying about what the other members of the Student Council think. Tsubomi and Erika encourage her. The theme is "A New Me."
Meanwhile, the Desert Apostles were also having their summer camp to defeat the Pretty Cure. During the night, Erika wants to tell horror stories while the others want to know about Itsuki. Itsuki answers their questions and wants to know more about everyone. Meanwhile, Cobraja couldn't sleep because of Kumojacky's loud snoring. He goes out and had seen a beautiful moon. Itsuki was watching the same moon when Tsubomi went to her. She said she had fun today with everyone. Cobraja notices them, but decides not to attack because the Moon is too beautiful today.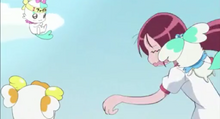 The next morning the the Cures were running at the beach followed by the fairies, having Pretty Cure training camp when all three Desert Apostles came. The girls transform to Pretty Cure. Blossom fights Cobraja, Marine fights Kumojacky and Sunshine is against Sasorina. After fighting a bit, Sunshine uses Gold Forte Burst to purify Sasorina, but Kumojacky and Cobraja save her and disappeared.
Later, the girls continue designing and Itsuki draws a lot of designs becuase after meeting everyone, ideas just kept popping into her head. The girls continue their summer camp.
Characters
Cures
Mascots
Villains
Secondary Characters
Trivia
Gallery