You can do anything! You can be anything! Embrace the sparkling future!
-Website's slogan
HUGtto! Pretty Cure (HUGっと!プリキュア, HUGtto! Pretty Cure?), referred to as HUG! Pretty Cure on Toei Animation's English website, is the fifteenth anime series of the Pretty Cure franchise.
Directed by Sato Junichi and Zako Akifumi and produced by Toei Animation, the series premiered on TV Asahi on February 4th, 2018, succeeding KiraKira☆Pretty Cure A La Mode in its timeslot. The series' themes are destiny, future, heroism, parenting, and jobs.
This series celebrates the 15th anniversary of the Pretty Cure franchise.
Media
HUGtto! Pretty Cure episodes
HUGtto! Pretty Cure♡Futari wa Pretty Cure: All Stars Memories (Movie)
HUGtto! Pretty Cure Manga (Kamikita Futago)
Production
The trademark for this series was filed on October 16, 2017, and was confirmed on November 29 when Toei and Asahi set up the websites [1].
Synopsis
Nono Hana is a second-year middle school student who aims to become a stylish, mature big sister like figure. When she realizes she is late for her first day of school, she cuts her bangs in a hurry, causing her hair to look like a mess!
However, there's a nice turn of events when she meets Hugtan and her guardian, Harry, who had fallen from the sky. But suddenly, the Criasu Corporation appears in hopes of stealing Hugtan's Mirai Crystal, so they create a scary monster to attack them!
With the strong desire to protect Hugtan, a new Mirai Crystal appears and transforms Hana into the Pretty Cure of High Spirits, Cure Yell. The Mirai Crystals are a crystallized form of Tomorrow Powerer, the magical power overflowing this world that creates a shining future for everyone. If it's stolen, everyone's futures will disappear, including Hugtan's future.
The story of Cure Yell who should protect important things is about to begin!
Characters
Pretty Cure
Allies
Hugtan (

はぐたん

?

) - A mysterious baby who fell from the sky, along with her guardian, Hariham Harry, while being chased by the Criasu Corporation. The world overflows with the power to create tomorrow called Tomorrow Powerer. However, Hugtan seems sensitive to it, even weak if the power is decreased. Her favourite things are milk and the Cures, and she ends her sentences with "hagyu~".
Hariham Harry (

ハリハム・ハリー

?

) - A hamster like fairy who fell from the sky with Hugtan. His role is to guide the Cures, but it seems he often fails to make them motivated. Harry can transform into an amazingly handsome boy and speaks in a kansai dialect.
Supporting Characters
Items
Locations
Hagukumi City (

はぐくみ市

Hagukumi-shi

?

) is the city the season takes place in.
L'Avenir Academy (

ラヴェニール学園

Ravenīru Gakuen

?

) is the school the girls attend.
Beauty Harry (

ビューティーハリー

Byūtī Harī

?

) is Hariham Harry's fashion shop as well as his and Hugtan's home.
International Dubs and Broadcasts
Albanian
Albania was the first country worldwide to produce a dub for HUGtto! Pretty Cure. It premiered on November, 2020 and ended in early December of 2020. The dub was made by "Jess" Discographic illegally and the acronyms of the series are left in Japanese.
Trivia
HUGtto! Pretty Cure is the second season where the Cures' voice actresses sing the ending themes, preceded by Mahou Tsukai Pretty Cure!.
Much like its predecessor, the beginning of most of the first episodes features Hana introducing herself to the audience before briefly recapping the previous episode. Later episodes would usually open with all five Cures introducing themselves.
Some episode titles appear to make a reference to a previous series to commemorate the franchise's 15th anniversary. It is unknown yet whether or not the references are intentional.
Most of the cures in this season have foreign Cure names (Mostly French), except Cure Yell and Cure Tomorrow.
HUGtto! Pretty Cure is the first season where Cures from a past season make cameo appearances in the show itself. In episodes 21 and 22, Cure Black and Cure White from Futari wa Pretty Cure appear. In episode 36, the casts of Mahou Tsukai Pretty Cure! and KiraKira☆Pretty Cure A La Mode appear along with Nozomi Yumehara, Kasugano Urara and Love Momozono, and in episode 37, every main Pretty Cure team appears.

Happiness Charge Pretty Cure! had cameos of past Cures, but unlike in HUGtto!, these weren't canon to its story, rather they gave the 10th year anniversary messages to the fans before the opening would display.

HUGtto! Pretty Cure is the first season where the Cures do not change their casual outfits for the summer. However, they wear the summer school uniforms. Much like Ciel from the previous season, the Cures change their casual outfits to more wintery ones after the end of summer.
HUGtto! Pretty Cure is the first season where a duo appears mid-season; Cure Macherie and Cure Amour.
This is the second season where the Japanese version has the most ending themes, having a total of 4. Glitter Force, the English dub of Smile Pretty Cure!, beats it with a total of 10.
HUGtto! Pretty Cure is the first season where a male Cure appears.
In the "All Pretty Cure Big Poll", HUGtto! Pretty Cure is ranked 4th in "Favorite Series Productions".
Merchandise
Please refer to the main page HUGtto! Pretty Cure Merchandise.
Gallery
External Links
Video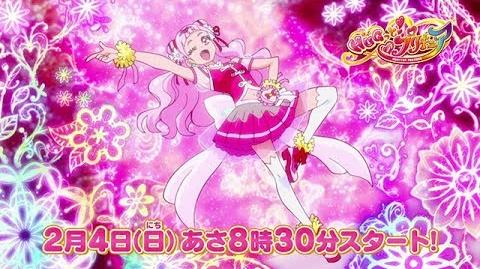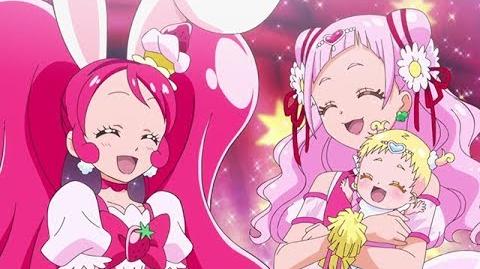 References