Mofurun noticed that this article lacks content or has faulty grammar and information.
She says you can help by
editing
this stub!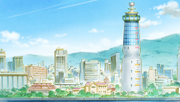 Hagukumi City (はぐくみ市, Hagukumi City ?) is the primary setting in HUGtto! Pretty Cure where most of the Cures live. Hagukumi will also be Hagumi's home place when she is born in 2030.
Known Locations
L'Avenir Academy (

ラヴェニール学園

?

) is the school the Cures except for Emiru attend.
Beauty Harry (

ビューティーハリー

?

) is Hariham Harry's fashion shop as well as his and Hugtan's home.

Home Center HuGMAN

(

ホームセンターHuGMAN

?

) is the department store where Hana's father works.
Known Residents
Uchifuji-sensei

Uchifuji Yuka
Gallery