Mofurun noticed that this article lacks content or has faulty grammar and information.
She says you can help by
editing
this stub!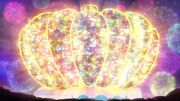 Halloween Eclair
(

ハロウィンエクレール

Harou~in Ekurēru

?

)
is the group attack shown in the
Go Princess Pretty Cure movie
. It requires the Halloween
Dress Up Key
and the
Music Princess Palace
.
Description
After the enemy is trapped in the palace, the Cures transform into a beam of light in their respective theme color. Once firing off their respective colored beams at enemy, the enemy is purified and a yellow flower appears then blooms and turns the combined beams into yellow glittering pumpkins with colored fireworks. The Cures then stand in front of the palace with only Cure Flora saying "Farewell!" to the enemy.
Incantation
Japanese
Cures Mermaid, Twinkle and Scarlet: モード・エレガント!
Cure Flora: ハロウィン!
All: 響け!全ての力!
All: プリキュアハロウィンエクレール!
Cure Flora: ごきげんよう!
Romanization
Cures Mermaid, Twinkle and Scarlet: Mōdo Ereganto!
Cure Flora: Harou~in!
All: Hibike! Subete no chikara!
All: Purikyua Harou~in Ekurēru!
Cure Flora: Gokigen'yō!
Transliteration
Cures Mermaid, Twinkle and Scarlet: Mode Elegant!
Cure Flora: Halloween!
All: Resound! All the powers!
All: Pretty Cure Halloween Eclair!
Cure Flora: Have a good day!
Trivia
Gallery
Community content is available under
CC-BY-SA
unless otherwise noted.