Happiness Charge Pretty Cure! (ハピネスチャージプリキュア!, Hapinesu Chāji Purikyua!?) is the eleventh anime series of the Pretty Cure franchise.
Directed by Nagamine Tatsuya and produced by Toei Animation, the series premiered on TV Asahi February 2nd, 2014, succeeding Doki Doki! Pretty Cure in its time slot. The series' themes are mirrors, fashion, dancing, form-changing and romance, in a scenario where Pretty Cure teams exist internationally and are known over the news.
The season celebrates the franchise's 10th anniversary.[1]
Media
Happiness Charge Pretty Cure! episodes
Happiness Charge Pretty Cure!: Ningyou no Kuni no Ballerina (Movie)
Happiness Charge Pretty Cure! Manga (Kamikita Futago)
Production
Happiness Charge Pretty Cure! was first announced on by Toei in the Japan Patent Office for a variety of goods on October 2 and made public on October 24, 2013. In an issue of Nikkan Sports' Pretty Cure Shimbun newspaper, Doki Doki! Pretty Cures Producer, Hiroaki Shibata, confirmed the series after confirming Doki Doki! Pretty Cures 49 episode run and will air at the beginning of February 2014.[2] A posting for Nintendo 3DS merchandise on Amazon revealed designs for the two main heroines, Cure Lovely and Cure Princess.[3]
On January 3, 2014, Megumi Nakajima of Macross Frontier fame announced she will voice the series' main character, Aino Megumi. She stated that Pretty Cure was something she has adored for a long time, so it was like a dream to be allowed to star in it herself.[4][5][6] It is the first time she took another lead anime role after announcing her indefinite hiatus from her music career at the end of March 2014.[7] A day later, the first commercial for the series was aired at the end of Doki Doki! Pretty Cure, showcasing Cure Lovely and Cure Princess's transformations.[8]
Synopsis

All around the world, Pretty Cures have been fighting against the invasion of the enemy known as Saiark! Shirayuki Hime, the princess of Blue Sky Kingdom is, in fact, a Pretty Cure, but unable to defeat the enemy alone, she is fallen behind the others and is in a quite a terrible situation. Then, on her quest to find a partner, she meets Aino Megumi (Cure Lovely), they form a team called Happiness Charge Pretty Cure. Later in the story, they are joined by Cure Honey (Omori Yuko) and Cure Fortune (Hikawa Iona), they fight against the Phantom Empire, defeat the Saiarks and collect all PreCards to fulfill their wish! With the dress-up theme beloved by girls, a completely different Pretty Cure story begins!
Characters
Pretty Cure
Allies
Ribbon (

リボン

Ribon

?

) is Hime's mediator, as well as Cure Lovely, Cure Princess, and Cure Honey's fairy partner. Despite her cute appearance, she is silver-tongued and much gutsier than Hime.
Glasan (

グラサン

Gurasan

?

) is Cure Fortune's fairy partner. She helps Cure Fortune during her battles. Glasan can produce PreCards like Ribbon.
 Phantom Empire
Others
Hikawa Maria (

氷川マリア

Hikawa Maria

?

) / Cure Tender (

キュアテンダー

Kyua Tendā

?

) is Iona's older sister. As Glasan and Iona described, she was a powerful Pretty Cure and has a strong heart. She was defeated by Phantom while protecting her sister from his attack. In episode 37, she was freed by Queen Mirage and became corrupted. The Cures were able to free her from Mirage's control after a long and hard battle. She traveled to the United States to spend time with her parents and help the other Cures out.
Sagara Seiji (

相楽 誠司

Sagara Seiji

?

) is a 14-year-old boy, who lives next door to Megumi. Megumi and Seiji have been friends since kids, and Seiji understands Megumi's weak and good points. Seiji loves martial arts and diligently trains every day at Hikawa karate dojo. Although he's popular with girls, he has no interest in a relationship and wants to focus on his training. Despite this, however, he harbors a secret crush on Megumi and showed jealousy towards Blue due to Megumi's developing feelings towards him. Because of his mother's work, he and his sister, Mao usually have dinner with the Ainos'.
Sagara Mao (

相楽 真央

Sagara Mao

?

) is Seiji's younger sister. She and Megumi get along well.
Aino Kaori (

愛乃 かおり

Aino Kaori

?

) is Megumi's mother. She was the one who taught Megumi to help the others when they are in trouble. Although her health isn't good, she always takes care of Megumi.
Sagara Hiroko (

相楽 寬子

Sagara Hiroko

?

) is Seiji and Mao's mother. She often drives trucks in other countries and has little time with her children.
Masuko Miyo (

増子 美代

Masuko Miyo

?

) is a reporter in the Happiness Charge Pretty Cure! universe. She is reporting about Japan's and other countries' Pretty Cures.
Other Cures: In episode 8, it was revealed that there are other Pretty Cures battling Saiarks in different regions of the world, including North America (Bomber Girls Pretty Cure!), India (Wonderful Net Pretty Cure!) and France (Cure Aile). There is another one in Egypt named Cure Nile, but she has been defeated and sealed by Phantom. In the fourteenth episode, there are additional Cures from Sydney, Moscow, Rome, and London. In episode 28, the main Cures visit Hawaii and meet a new Pretty Cure team, the Alo~ha! Pretty Cure consists of two Cures: Cure Wave and Cure Sunset. In episode 30, it is revealed that Queen Mirage was a Pretty Cure named Cure Mirage.
Items
Locations
Trivia
Happiness Charge Pretty Cure! is the first season of Pretty Cure to introduce other currently active Pretty Cure teams besides the main one, with the International Pretty Cures.
This is the first season to feature a "passing the torch" scene, with Cure Lovely passing it to Cure Flora, the lead Cure for Go! Princess Pretty Cure. This is inspired by the Hand-Off Super Sentai tradition. Seasons following Happiness Charge Pretty Cure! would do this from here on out.
Happiness Charge Pretty Cure! is the first season to have just one eyecatch.
Happiness Charge Pretty Cure! has the largest number of Cures in a season (counting Cure Tender, Cure Mirage and the international Cures).
Merchandise
Please refer to the main page Happiness Charge Pretty Cure! Merchandise.
Alternative titles
In South Korea, it's known as Happiness Precure (해피니스 프리큐어!).
Gallery
External Links
Video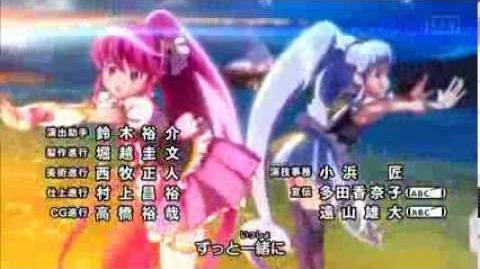 References