This is a page dedicated to the minor characters from the Healin' Good♥Pretty Cure series.
Nagara Sumiko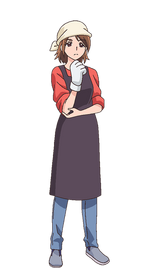 Nagara Sumiko
(

長良澄子

?

)
appeared in
episode 10
. She is an artist who travelled to France to learn more about the art she loved. In this episode, she explains to
Nodoka
and her friends about her artwork and how they came to be. When a
Megabyogen
appears, she tries desperately to protect her artwork, but is told by Grace that she has to evacuate the building.
Sumiko's hair is light brown and she wears a cream colored cloth on her head. Her eyes are auburn colored. She is seen wearing a red long sleeved shirt, jeans and grey shoes. She has a white glove on her right hand, and wears a black apron.
She is voiced by Koichi Makoto.
Habu Mikio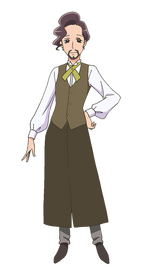 Habu Mikio
(

土生みきお

?

)
appeared in
episode 15
. He is the store owner of Herb Garden who created a lavender daruma which
Rabirin
adores. He has Nodoka do certain things in his store to earn stamps that will give her the lavender daruma.
Mikio has brown wavy hair with matching eyes. He wears a light brown vest over a white long sleeved dress shirt, with a green-brown bow tie. His pants are brown, and his shoes are black.
He is voiced by Kitada Masamichi
Sugisaki Fumi & Nagano Hideo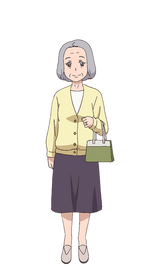 Sugisaki Fumi
(

杉崎史

?

)
and
Nagano Hideo
(

長野日出夫

?

)
both appeared in
episode 16
. They used to be good friends with Kido Tetsuya, even doing a friendship vow beneath The Eternal Tree together, but parted ways with him after an argument. Throughout the episode, they are reluctant to meet Tetsuya again, but thanks to
Batetemoda's
Megabyogen, they reconnected with him and even had coffee together at Cafe Jun.
Fumi has short grey hair with brown eyes. She wears a pale yellow cardigan on top of a white blouse. Her skirt is black, and her shoes are cream colored. She is seen carrying a green handbag.
Hideo has grey hair, brown eyes and wears black glasses. He wears a brown jacket on top of a blue t-shirt, black business pants and brown dress shoes.
Fumi is voiced by Mizuochi Yukiko, while Hideo is voiced by Satō Kensuke.
Kido Tetsuya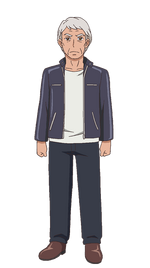 Kido Tetsuya
(

城戸哲也

?

)
appeared in
episode 16
. He used to be good friends with Fumi and Hideo, and even reluctantly vowed to be friends forever with them beneath The Eternal Tree. However, after an argument with Hideo and Fumi, Tetsuya left
Sukoyaka City
. When he comes back, he tells Nodoka,
Chiyu
and
Hinata
to not bother doing a friendship vow, and ignores them when they tell him to talk to his old friends. He eventually meets his friends again when Batetemoda's Megabyogen attacks the tree, and decides to have coffee with them at Cafe Jun.
Tetsuya has white hair and brown eyes. He wears a navy blue leather jacket on top of a white t-shirt, black jeans and brown boots.
He is voiced by Yamagishi Haruo.
Mr. & Mrs. Smith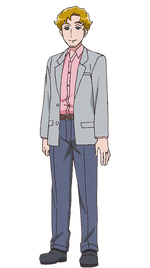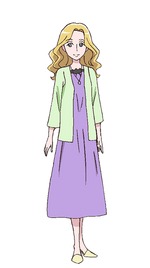 Mr. and Mrs. Smith both appeared in episode 17. They are tourists who brought their daughter Emily Smith to stay at the Sawaizumi Inn. According to Emily, they are planning to move to Japan to start a new life.
Mr. Smith has brownish gold short hair and bluish green eyes. He wears a pink shirt, a long grey coat, a brown belt, dark blue trousers and black shoes. He has a ring on his left hand.
Mrs. Smith has long wavy blond hair and bluish green eyes. She wears a pale green coat, a purple dress with a black trim at the top, and a necklace with a yellow pendant around her neck.
Mr. Smith is voiced by Yasuhiro, while Mrs. Smith is voiced by Aikawa Rikako.
Kusaka Honoo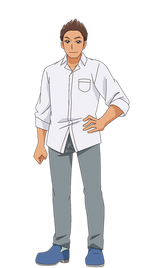 Kusaka Honoo (日下炎, Kusaka Honoo?) appeared in episode 18. He used to work in the neighboring town but returned after he married Orie.
Honoo has brown spiky hair and brown eyes. He wears a white long sleeved dress shirt, grey jeans, white socks and bright blue shoes.
Honoo is voiced by Sawashiro Chiharu.
Itsuki Sakuya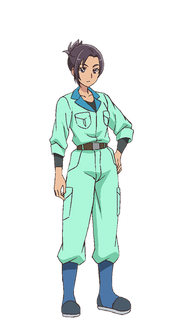 Itsuki Sakuya (樹 サクヤ, Itsuki Sakuya?) is an arborist from Ooraka City who appeared in episode 24. She used to visit the lake at Ooraka City when she was younger, and has since started her job to help protect nature. When Nebusoku terrorizes and pollutes the lake, she is desperate to protect it, but she faints after being blown by his gust of wind and gets hit onto a tree. Fortunately, she is rescued by the Cures.
Sakuya is a young lady with brown eyes who ties her long brown hair into a bun. She wears a teal blue uniform, a black shirt, a brown buckle belt and dark blue boots.
Sakuya is voiced by Fukuhara Ayaka.

Riri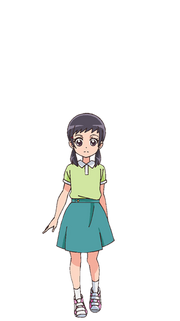 Riri (りり, Riri?) is a young transfer student who appeared in episode 25. She is lonely and had been dealing with bullies since she started attending her new school. One day, she discovers Pegitan, who was pretending to be a plushie, on a bench. She takes him home and plays with him, but she soon learns he is real, and becomes attached to him. When Chiyu finds Pegitan, Riri runs off with him, not wanting to say goodbye to him, but Chiyu eventually allows him to visit Riri when he can.
Riri is a young girl with dark purple eyes and black hair worn in pigtails. She wears a green blouse, a dark turquoise skirt, and pink and white sneakers.
Riri is voiced by Tanaka Takako.
Community content is available under
CC-BY-SA
unless otherwise noted.