Mofurun noticed that this article lacks content or has faulty grammar and information.
She says you can help by
editing
this stub!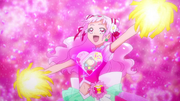 Heart For You! (ハート・フォー・ユー!, Heart For You!?) is Cure Yell's first finisher that can only be used if she has her PreHeart and her Mirai Crystal. It is first used in episode 1.
Description
Cure Yell presses the button on her PreHeart, surrounding herself with a flurry of hearts. Manifesting pom-poms from her cuffs, she performs a brief cheer before drawing a larger heart with pink energy around the device and firing it at the foe for purification.
Incantation
Japanese
Cure Yell: フレフレ!
Cure Yell: ハート・フォー・ユー!
Romanization
Cure Yell: Furefure!
Cure Yell: Hāto・Fō・Yū!
Transliteration
Cure Yell: Hooray hooray!
Cure Yell: Heart For You!
Trivia
Gallery
Video
Community content is available under
CC-BY-SA
unless otherwise noted.