Holy Sword (ホーリーソード, Hōrī Sōdo?) (called Sparkle Flash in Glitter Force Doki Doki) is Cure Sword's attack, which she uses to purify Jikochuus and was used first in episode 1. She needs Dabyi in her Lovely Commune form and the attack Cure Lovead to do it.
Description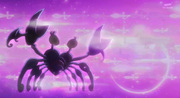 She first uses the Lovely Commune. She then puts the attack Cure Lovead on top of it. She then draws a heart on the Lovely Commune's screen. 
Cure Sword flies in the air, and then she draws a flurry of swords at the Jikochuu, purifying it.
Incantation
Japanese
Cure Sword: 閃け!ホーリーソード!
Romanized
Cure Sword: Hirameke! Hōrī Sōdo!
English
Cure Sword: Flash! Holy Sword!
Glitter Force Doki Doki
Glitter Spade: Activate Glitter Pad! Glitter Force, Sparkle Flash!
Trivia
Gallery
Video
Community content is available under
CC-BY-SA
unless otherwise noted.