Mofurun noticed that this article lacks content or has faulty grammar and information.
She says you can help by
editing
this stub!
Beyond Love! Whip・Step・Jump! (大好きの先へ!ホイップ・ステップ・ジャーンプ!, Daisuki no Saki e! Hoippu・Suteppu・Jānpu!?) is the 49th and final episode of KiraKira☆Pretty Cure A La Mode and the 684th episode of the Pretty Cure franchise overall.
Summary
It has been a year since the Cures restored the world, and it is now time for them to close the KIRAKIRA Patisserie. Emotions run high for Ichika as she remembers all the people that she met and helped out during her time there. However, there is still one major threat lurking around in town - Chourou's body.
Major Events
Synopsis
Characters
Pretty Cures
Mascots
Villains
Secondary Characters
Trivia
Most of the episode takes place a year after the Cures' final battle against Elisio.
Although they are not named, the two children Ichika gives sweets to in her future segment are most likely reincarnations of Noir and Lumière. The boy has a different voice actress, but the girl is voiced by Lumière's voice actress. The dog also has a slight resemblance to Diable.
Like the previous three seasons before it, there is a baton pass message between the outgoing and incoming lead Cures.
The fourth and final teaser trailer for HUGtto! Pretty Cure is shown.
This episode marks the end of KiraKira☆Pretty Cure A La Mode and marks HUGtto! Pretty Cure to take its initial time slot.
Gallery
Main Page: KKPCALM49/Image Gallery
Episode Preview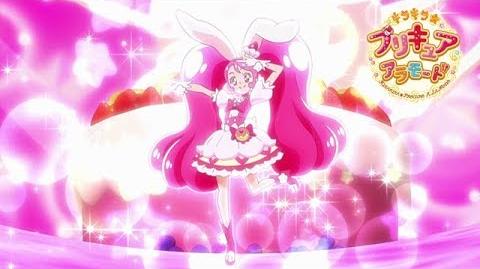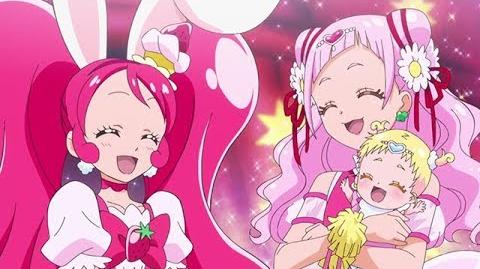 Community content is available under
CC-BY-SA
unless otherwise noted.