Mofurun noticed that this article lacks content or has faulty grammar and information.
She says you can help by
editing
this stub!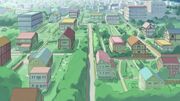 Kibougahana (希望ヶ花, Kibōgahana?) is the primary setting of Heartcatch Pretty Cure!, and the town all of the main characters live in. In the first episode, Hanasaki Tsubomi and her partents moved to Kibougahana to work at their new flower shop. Previously, Tsubomi had visited Kibougahana many times to visit her grandmother, Hanasaki Kaoruko who owns a botanical garden.
Known Locations
Myoudou Academy: An educational institute in Kibougahana. The school has two campuses, a junior high school and a high school. The main characters attend the school. The current headmaster of the Academy is Myoudouin Gentarou, Itsuki's grandfather.
Flower Shop Hanasaki: The flower shop owned by Tsubomi's parents. The flower shop is the first floor of their two story house, while Tsubomi's room is on the second floor. Flower Shop Hanasaki is located next to the fashion store Fairy Drop.
Fairy Drop: Fairy Drop is a two-story fashion store that sells accessories on the first floor and clothes on the second floor. The shop is run by Kurumi Erika's parents. It's located right next door to Flower Shop Hanasaki.
Hanasaki Botanical Garden: A botanical garden owned by Tsubomi's grandmother. It is quite known around the town and many people come to visit it by times. The botanical garden also works as hide out for the fairies. Some people might encounter Coupe during their time at the garden.
Myoudouin dojo: The Myoudouin dojo belongs to the Myoudouin family. It's the place where Itsuki trains to retain the Myoudouin style. It also works as the place Itsuki and her family lives at.
Gallery
Community content is available under
CC-BY-SA
unless otherwise noted.