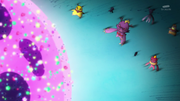 The 
Kirakiraru Thieves
(

キラキラルを奪う存在

Kirakiraru wo Ubau Sonzai

?

)
were a group of evil and mischievous fairies who were the first antagonists in
KiraKira☆Pretty Cure A La Mode. 
Their main goal is to steal the
Kirakiraru
found in the world's sweets to become powerful. They wear a red belt with a buckle that has a black star on it. Using said belt's dark energy, they can drain the Kirakiraru from sweets or desserts, which turn the sweets black.
The thieves use their favourite sweets to drain the Kirakiraru which differs from member to member - Gummy desires the Kirakiraru from cakes, while Pulupulu seeks the Kirakiraru from puddings. If they swallow the Kirakiraru, they can transform into bigger and more powerful forms of themselves depending on how much they use.
In episode 11, the thieves were all purified by the Cures, with the star-shaped buckles shattered. In episode 12, Gummy reveals to the Cures that he and the other fairies who once comprised the group were given the belts by Julio, putting them under his control. In episode 21, it is revealed that the purified thieves helped the missing fairies reunite with Pekorin and Chourou.
Members
Trivia
Gummy is the only member of the Kirakiraru Thieves to have his own unique voice actor.
Gallery
Main Page: Kirakiraru Thieves/Image Gallery
References
Community content is available under
CC-BY-SA
unless otherwise noted.