Mofurun noticed that this article lacks content or has faulty grammar and information.
She says you can help by
editing
this stub!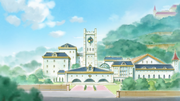 The L'Avenir Academy (ラヴェニール学園, Ravenīru Gakuen?) is the school Hana, Saaya, Homare, and later Ruru, attend in HUGtto! Pretty Cure. The L'Avenir Academy was first introduced in episode 1. The school is located in Hagukumi City.
Uniform
Female Uniform
The default girls' uniform consists of a long-sleeved, white-colored shirt, with a red tie tied around the neck. The tie shows two crossing, pink lines. Each of the girls wear a grey skirt with white linings, brown suspenders, white stockings and brown loafers. However, a lot of girls are shown to have their own versions of school uniform. Hana, for example, wears a pink shirt, Saaya wears a blue sweater over her shirt and Homare wears a yellow hoodie. Other students usually wear yellow or blue jackets/sweaters or have such tied around their hips. Ruru, who transfers to L'Avenir later in the series, starts out wearing a black jacket showing the school's emblem, while later, she wears a purple/white one.
Male Uniform
The default boys' uniform consists of a white shirt that is worn underneath a blue jacket. A red tie is tied around the neck of the students. They wear grayish blue colored pants and black shoes. Like the girls, the boys are allowed to wear yellow or blue colored jackets/sweaters. During his debut episode, Henri was shown wearing a typical school uniform. He wore a white colored, long sleeved shirt with a red tie around his neck. The blue sweater he wore showed the school's emblem. He wore grey pants and black shoes. The collar of his shirt showed some kind of frills. In later seasons, Henri wore a more modified school uniform.
School grounds
Notable Students
Notable Staff
Trivia
"L'Avenir" is French for "the future", referring to the season's main theme.
Gallery
References