Mofurun noticed that this article lacks content or has faulty grammar and information.
She says you can help by
editing
this stub!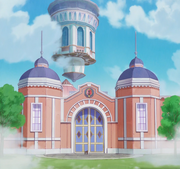 Magic School
(

魔法学校

Mahō Gakkō

?

)
is the school that appears in the
Mahou Tsukai Pretty Cure!
series. It is the school that
Izayoi Riko
and
Asahina Mirai
attend.
Kouchou
is the principal of the school while
Kyoto
is the vice-principal. The uniform stays the same throughout the year.
Description
Layout
Activities
Uniforms
Female Uniforms
The uniforms consist of a white frilly long-sleeved blouse with a magenta-colored cape with a gold trim that is held around the shoulders with a pink checkered bow. The skirt is pink and is frilly with a frilly white layer underneath. Around the waist is a magenta belt with suspenders and has two gold buttons in the middle. The socks are black and can be plain black or it could have white frills at the top with magenta ribbons on the side. The shoes are magenta with a frilly strap that is either pink or white. To top the uniform off, there is a magenta hat with a pink checkered ribbon tied around the base and a white feathery layer inside. The uniform also comes with a short cloak with a hood topped with cat-like ears.
Male Uniforms
The uniforms consist of long-sleeved white shirts with dark blue cuffs at the end of the sleeves with a blue-colored cape with a gold trim that is held around the shoulders with a dark green ribbon. They also wear dark blue puffy pants that stop just below the knee with matching dark blue suspenders and belt. Their socks are black and all have different lengths and brown shoes.
Notable Students
Kouchou (formerly)
Kushe (formerly)
Notable Staff
Gallery
Characters/Uniforms
Locations
Community content is available under
CC-BY-SA
unless otherwise noted.