Mofurun noticed that this article lacks content or has faulty grammar and information.
She says you can help by
editing
this stub!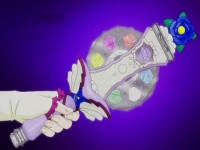 The Milky Mirror (ミルキーミラー, Mirukī Mirā?) is an item appearing in Yes! Pretty Cure 5 GoGo!. It is granted to Milky Rose by Natts when he uses the power of the crown of the Palmier Kingdom. It is produced from the Milky Note's monitor when the blue and pink sliding buttons collide. The Milky Note then creates a blue rose that fuses with the Milky Palette and turns into the Milky Mirror.
When using the Milky Mirror, Milky Rose becomes able to perform the upgraded version of Blizzard, Metal Blizzard. The Milky Mirror can also be used along side Cure Dream's Cure Fleuret, as seen in episode 38. Additionally, Milky Rose gets the ability to turn her Milky Mirror into a fleuret to coordinate with the five Cures during Floral Explosion.
Appearance
The Milky Mirror has a silver pinwheel with different colored roses (violet, red, purple, magenta, yellow, green, white, and light blue) on it. On the top rests a pale grey and silver bar with a small screen to reveal what flower it is using. with a blue rose ornament on the very top of it. Milky Rose's hand rests on a lavender handle with grape-colored stripes circling the top portion to match the lining on each white wing above it. In the center of the wings is another tiny blue rose. 
Merchandise
With the toy, there is not only a blue flower, but a pink one. The pink will say "Skyrose Translate!" and the blue one, when used with the Cure Fleuret it recites the Metal Blizzard attack.
Gallery
Community content is available under
CC-BY-SA
unless otherwise noted.