Myoudou Academy (私立明堂学園, Shiritsu Myōdō Gakuen?) is a private school that appears in Heartcatch Pretty Cure!. The school has two campuses, a junior high school and a high school. Tsubomi transfers here after moving into Kibougahana.
Uniform
Myoudou Academy is a mixed school. For some reason, the junior high school uniform is significantly brighter than the high school one.
Junior High School
For girls it consists of a pleated-bottom cream dress with a white sailor collar and red lining. Where the collar meets a red bow is in front. On the the dress there are four pink buttons. The socks are navy and knee length and brown shoes to compliment.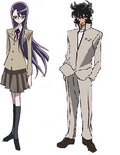 For boys it is a grey jacket on top with a breast pocket. There are grey trousers with a pleat up the middle and brown shoes. For summer, girls wear a cream waistcoat with a short sleeved white shirt. The white shirt is adorned with a red bow. The summer girls uniform has a short skirt with shorter socks and brown shoes. The boys' summer uniform is not shown in the series.
High School
The high school uniform for the girls is a grey blazer with a white shirt, a red ribbon, a pleated taupe mini skirt with grey knee length socks and grayish black shoes. For boys the uniform consists of a silver jacket, matching trousers and brown shoes.
Extra Curricular Clubs
The most prominently shown club of the show is the fashion club. Other clubs include a drama club, a gardening club, football club and a separate girls football club, photography club, light music club, manga club and many more. There is also a student council that Itsuki used to be president of. Once a year there is a school festivalHPC35 in which all clubs help in.
Notable Students
Notable Staff
Etymology
Myou (明) means bright Dou (堂) means magnificent and 院 means building all together meaning bright magnificent school.
Gallery
Community content is available under
CC-BY-SA
unless otherwise noted.