Mofurun noticed that this article lacks content or has faulty grammar and information.
She says you can help by
editing
this stub!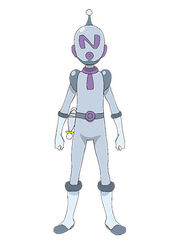 Nottorei (ノットレイ, Nottorei?) are the foot soldiers of Star☆Twinkle Pretty Cure. They are usually accompanied by Kappard and Tenjo. The Nottoreis are voiced by Yoshimitsu Shimoyama and Kenta Tanaka.
Appearance
They are mainly light grey in color with dark grey sleeves and a belt. They wear white gloves and boots with dark grey tops. Their face is also light grey with a dark grey antenna on their head. On their face is the word "NO" in vertical (the "O" is their mouth) which is colored purple. It is shown in episode 3 that they come in different sizes.
A giant Nottorei takes on the appearance of the victim that was targeted, but still somewhat resembles a normal Nottorei, with the "NO" on its face and a gray body. While most are humanoid, an exception was made when Don Octo was targeted, as he retains his octopus-like body.
In episode 46, it is revealed that the Nottorei were actually recruited aliens from different planets that wore the suits in battle.
List of Giant Nottoreis
After Tenjo gets empowered by Darknest, she can now turn a victim into a Nottorei by darkening his or her heart with her fan and then enlarges them to become a giant version of a Nottorei with a black heart on its chest.
History
They appear in episode 1 with Kappard to take Fuwa. They fight Cure Star but due to not being very strong, they are defeated very quickly.
The giant Nottorei makes its first appearance in episode 14, when Tenjo, strengthened by Darknest, turns one of the Elena's brothers, Touma, into one.
In episode 43, Tenjo uses her power on herself, turning herself into a giant Nottorei to battle against the Cures.
Powers and Abilities
With the help of rocket shoes, they are able to fly.
They are shown to possess laser guns in episode 3, which they used to attack Cure Star with.
In episode 4, it was shown that they possess a smoke bomb to attack the Cures with.
Etymology
Their name is derived from the verb "nottoru", (乗っ取る) which means to "take over".
Trivia
After Aiwarn discharges herself from the Notraiders, Nottorei has replaced Nottoriga as the main monster of the season.
Nottorei is the first type of monster/minion that can be created with or without a victim.
Gallery