Mofurun noticed that this article lacks content or has faulty grammar and information.
She says you can help by
editing
this stub!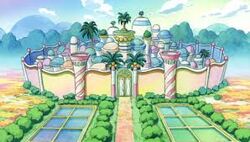 The Palmier Kingdom (パルミエ王国, Parumie ōkoku?) is Coco, Natts, and Milk's homeland. Its kings are Coco and Natts. On a map of the Kingdom, it is revealed it is an island surrounded by 4 kingdoms/islands.
About the Kingdom
It is a place where little fairies like Coco and Natts live. It have homes that looks like Towers. They have Coconut Trees around the Kingdom for its name, "Palmier". It might have a palace and inside is a library and keeps and protects the Dream Collet. Kingdom has a great gate and the 5 lights to keep evil people out. It also have a market place like an Arabian way.
Yes! Pretty Cure 5
Nightmare infiltrated Palmier Kingdom when Natts was on guard and noticed a wounded creature. He tried to help it, but as he opened the passageway to the kingdom, the creature was revealed to be from Nightmare. After which, the evil organization invaded the kingdom and destroyed it. They were after the Dream Collet, but Coco and Natts escaped with it and fled to the Human world to hide, leaving many of its citizens to be controlled and brainwashed by Nightmares to become disguised as humans and the people who wear masks in Nightmare HQ. The 5 lights then transformed into butterflies and traveled to the Human world to find the The Pretty Cures and became Pinky Catches to transform. In the end, the citizens turn back to normal and Nightmare was now finished. The Pinky Catches turn back into butterflies and combined into a large butterfly as a transportation Coco, Natts, Milks and the citizens to go back to Palmier and build it with their hard work and efforts.
Yes! Pretty Cure 5 GoGo!
The Kingdom is recovering and growing from the efforts and hard work of the people. Coco and Natts were having a coronation and going to be the new kings of Palmier, until Eternal attacked and has to go back to Earth to aid the Pretty Cures. Later, Coco and Natts successfully and officially became the new kings of Palmier Kingdom. The 'Cure Rose-Garden', which is located near the heart of the kingdom was under siege by Eternal who were later defeated by the Cures.
Residents
Trivia
The kingdom itself is named after a crisp sweet pastry shaped like a palm leaf.
Gallery