Mofurun noticed that this article lacks content or has faulty grammar and information.
She says you can help by
editing
this stub!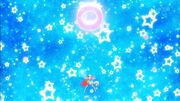 Parfait Étoile (パルフェエトワール, Parufe Etowāru?) is Cure Parfait's first sub attack that she performs in episode 24 to stop Grave's monster. To perform the attack, she must have her Rainbow Ribbon.
Description
Cure Parfait uses her Rainbow Ribbon to create 3 hoops, which then entrap the enemy and explode.
Incantation
Japanese
Cure Parfait: キラキラキラリン☆パルフェエトワール!
Romanization
Cure Parfait: Kirakirakirarin☆Parufe Etowāru!
Transliteration
Cure Parfait: Kirakirakirarin☆Parfait Étoile!
Trivia
In contrast to all the other sub attacks which start with the phrase "Kirakirakiraru", Parfait starts this attack with "Kirakirakirarin", a reference to her name.
Gallery
Video
Community content is available under
CC-BY-SA
unless otherwise noted.