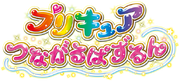 Pretty Cure Connection Puzzlun (プリキュアつながるぱずるん, Purikyua Tsunagaru Pazurun?) is a puzzle game for iOS and Android, based on the Pretty Cure franchise. It was released on March 16th, 2017.
The game is advertised as an easy one-strokeone-stroke (一筆書き, hitofudegaki?) game, which is a type of game where you draw a shape without lifting the stylus or your finger. The more puzzles you complete and the more cards you gather, you'll be able to build a larger team of characters from which you can choose as you play.
The game's theme song is Connect! (ツナガレ!, Tsunagare!?) by Riro, which plays in the title screen.
Menu
Friend
User Information
Option
Help
Characters
Pretty Cures
Mascots
Tsunagarus executives
(villians)
Minor characters

Kirunnu
Gizzagizza
Danzetsu
Togireru
Barabaran
Chiridjirin
Koppa
Chiguhagu
Buttagiru
Parin
Mrs. Cut
Chokkin
Gacha
Gallery
Futari wa Pretty Cure Max Heart
Futari wa Pretty Cure Splash Star
Yes! Pretty Cure 5 GoGo!
Fresh Pretty Cure!
Heartcatch Pretty Cure!
Suite Pretty Cure♪
Smile Pretty Cure!
---
Doki Doki! Pretty Cure!
---
Happiness Charge Pretty Cure!
---
Go! Princess Pretty Cure
---
Mahou Tsukai Pretty Cure!
---
KiraKira☆Pretty Cure A La Mode
---
HUGtto! Pretty Cure
---
Star☆Twinkle Pretty Cure
---
Tsunagarus executives
Official Artwork
Other
Original Icons
Special Icons
External Links
Community content is available under
CC-BY-SA
unless otherwise noted.