Welcome to Pretty Cure wiki!
Pretty Cure Wiki is a comprehensive encyclopedia that anyone can edit!
It covers the anime series, characters, storylines, and other relevant material to the Pretty Cure series. Pretty Cure is the main term used in the series to describe a group of girls who can transform into warriors. In each season, there is a legend of warriors who will come to aid the world when it is in need, and stop an invasion of evil.
The franchise started in 2004 with Futari wa Pretty Cure. Since then, nineteen Pretty Cure seasons have been developed and aired. The currently airing season is called Delicious Party♡Pretty Cure, and has an food/gratitude theme.
Please tell your friends about this wiki and help us to make this an information source of Pretty Cure to be proud of.
This wiki contains a plethora of spoilers relating the Pretty Cure series. Read at your own risk!
This wiki currently has 3,794 articles since its creation.
Featured New Articles
Delicious Party♡Pretty Cure
This article contains all the information you need to know about the currently airing Delicious Party♡Pretty Cure anime.
(Read More)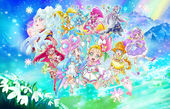 Tropical-Rouge! Pretty Cure: Yuki no Princess to Kiseki no Yubiwa!

The
Tropical-Rouge!
movie was released on DVD in Japan on February 23
rd
,2022!! The
Heartcatch
Cures also make an appearance! Read on to find out more!
(
Read More
)
Content
Many different kinds of content exist in this database, this is a rundown of the most important categories. Also refer to the top header for navigation.
Fiction
Franchise
Anime Series and

Sequels

- Also see the box on the right
Episodes and Episode Lists - Every single Pretty Cure series and sequel has an episode list page with original titles, air dates and handy descriptions. The infoboxes on the episode pages themselves also include the main episode staff.
Movies - Anything movie related, specific movies, movie characters, soundtrack and songs can be found here.
Merchandise - Includes Books, DVDs and Blu-Rays, specific lists for every season, Trading Cards, Video Games and Apps, and many more.
Trivia
Futari wa Pretty Cure is the only season so far that has only one ending song; all others have two different ending songs. It does, however, change one scene of the animation sequence where the villains from the first half are replaced by the Seeds of Darkness and Mepple, Mipple, and Pollun are added to the final scene.
Refresh for another fact
How to help
Not sure where to start?
Go and edit an article.
Create missing articles.
Categorize uncategorized articles.
Expand articles tagged as stubs.
See what else needs to be done at the

Community Portal

.
If you are new to wikis, check out the tutorial.
Check out this discussion post to get in touch with admins and see what we need help with most right now!
External Links
Official Sites
Featured Image