Welcome to Pretty Cure wiki!
Pretty Cure Wiki is a comprehensive encyclopedia that anyone can edit!
It covers the anime series, characters, storylines, and other relevant material to the Pretty Cure series. Pretty Cure is the main term used in the series to describe a group of girls who can transform into warriors. In each season, there is a legend of warriors who will come to aid the world when it is in need, and stop an invasion of evil.
The franchise started in 2004 with Futari wa Pretty Cure. Since then, seventeen Pretty Cure seasons have been developed and aired. The currently airing season is called Healin' Good♥Pretty Cure, and has a nature/animals theme.
Please tell your friends about this wiki and help us to make this an information source of Pretty Cure to be proud of.
This wiki contains a plethora of spoilers relating the Pretty Cure series. Read at your own risk!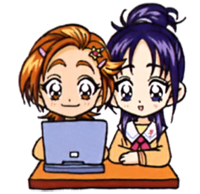 This wiki currently has 3,145 articles since its creation.
Content
Many different kinds of content exist in this database, this is a rundown of the most important categories. Also refer to the top header for navigation.
Fiction
Franchise
Trivia
Many aspects about Kenjou Akira - including her design, her voice, her personality and her transformation sequence - reference the extravagant Broadway-style musicals performed by the Takarazuka Revue, in which women play all possible roles of the musical.
Her masculine design and personality fit the otokoyaku (

男役

?

) (literally "male role"), the male part played by actresses in Takarazuka productions. This is especially apparent with her Cure design, with its ornate uniform/suit-like style, the top hat and the princely puffed sleeves and cape.
In her transformation sequence, she stands on an ookaidan (

大階段

?

), the "grand staircase" being a trademark of the musicals since 1927 and usually rolled out in the finale for the actresses to dance on. Her hand motions in the sequence are also typical.
Her voice actress, Mori Nanako, used to play the otokoyaku role under the stage name Saeki Chihaya in fifteen Takarazuka Revue musical productions from 2005 to 2009.
Refresh for another fact
Featured New Articles
Healin' Good♥Pretty Cure
This article contains all the information you need to know about Healin' Good♥Pretty Cure, which is currently on hiatus.
(Read More)

Pretty Cure Miracle Leap: Min'na to no Fushigi na 1 Nichi
The new All Stars movie, Miracle Leap has been postponed! Read on to find out more!
(Read More)
Poll
What are your current thoughts on Healin' Good♥Pretty Cure?
Affiliates



How to help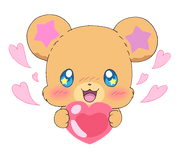 Not sure where to start?
Featured Image
Spring Season 2020 Anime Wikis

TV Anime

TV (Multiseason)

ONA

OVA

Specials

Film
Community content is available under
CC-BY-SA
unless otherwise noted.