The Prism Flower (プリズムフラワー, Purizumu Furawā?) is a magical flower that acts as gate that allows the fairies of other worlds to come to earth. It was first mentioned in Pretty Cure All Stars DX3. Once the Prism Flower disappears, the fairies will be unable to travel between the worlds anymore. Additionally, the Prism Flower is known as the source of all good, which allows the girls to transform into Pretty Cures.
History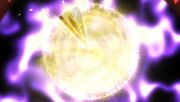 For a long time, the original Prism Flower was hidden somewhere in the galaxy, providing the creatures of different worlds a path to come to earth.
However, when Black Hole absorbed the strength of Prism Flower, the Cures had to use their last bits of their powers, even if that meant to lose their fairies forever. With a combined attack of the strongest finishers, the Cures managed to defeat Black Hole. Yet, the Prism Flower had then lost its last powers and vanished. The fairies then had to leave earth and go home to their worlds, leaving the girls alone - with them now being unable to transform into Pretty Cures again.
Back at the Tree of Hearts, Chypre, Coffret and Potpourri found a newly growing flower; the Prism Flower begins to bloom once more, allowing the fairies to once more reunite with the girls.
References