Private Aria Academy (私立アリア学園中学校, Shiritsu Aria Gakuen Chuugakkou?) is the high school Hibiki, Kanade, Ellen and many other characters in Suite Pretty Cure♪ attend. Hibiki's father Dan works at the school as a music teacher and conductor for the popular quintet group, Musical Princes.
Uniform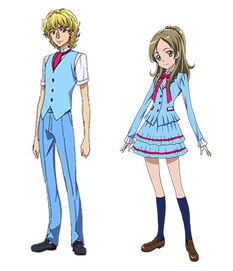 The school uniform is mainly cyan, with hot pink highlights. The winter uniform for both guys and girls consists of a long-sleeved cyan blazer with pink buttons and lining over a white shirt/blouse. In summer, this is replaced with a cyan vest and a short-sleeved shirt/blouse.
Around the collar, guys wear a pink tie tucked into the blazer, while girls wear a bow with the ends hanging out. Guys wear long cyan pants, while girls wear a short, two-tiered skirt with pink lining. Both wear standard school shoes in either black or brown, and girls are required to wear knee-high dark blue socks.
Notable Students
Notable Staff
Musical Princes
The Musical Princes (音楽王子隊, Ongaku Ouji Tai?) is a musical quintet group made up of 5 students from the Academy. They are famous not only within school but around Kanon Town as well. The leader of the group, Ouji, has an idol-like status in school, with many girls, including Kanade, having a crush on him.
The 5 members are Ouji Masamune (王子 正宗, Ouji Masamune?), Hakushaku (博尺, Hakushaku?), Baron (馬論, Baron?), Naito (無戸, Naito?) and Kishi (貴志, Kishi?). They are directed by Hibiki's father, Hojo Dan.
Trivia
An aria (Italian for air) stands for any expressive melody, usually, but not always, performed by a singer. It can also be used to describe a self-contained piece for one voice, usually with orchestral accompaniment.[1]
Gallery
References
Community content is available under
CC-BY-SA
unless otherwise noted.