Mofurun noticed that this article lacks content or has faulty grammar and information.
She says you can help by
editing
this stub!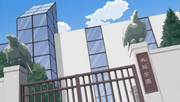 The Private Torigoe Academy (私立鳥越学園, Shiritsu Torigoe gakuen?) is a private school in Fresh Pretty Cure!, which Aono Miki attends as a second year middle school student. In episode 3, a bunch of students attending the Public Yotsuba Junior High School were shown to have a conversation about Miki, who might be a student of the school, by judging her uniform. One of their reactions was to ask if she was an artist then, which to the assumption that the Torigoe Academy might be a school for talented artists.
Uniform
The top of the school's uniform strongly resembles a sailor uniform as it is seen quite often around Japanese students. The top is mainly blue and shows a light and dark blue colored sailor collar with a dark blue ribbon tied around it. It has puffy sleeves and dark blue trims. The students wear a slightly darker colored skirt which also has dark blue trims. The uniform also includes blue-ish silver colored loafers. Aono Miki, who is the only main character to wear the uniform throughout the season, is seen wearing black leggings.
During summer seasons, the students are seen to wear a light blue, almost white colored shirt with short sleeves. Just like the winter counterpart, the shirt has dark blue trims, however, it does not include a sailor collar. Instead, the shirts of the uniforms resemble a buttoned blazer.
Notable Students
Even though the school has made some minor appearances in the season, none of its students or faculty have been named. This makes Aono Miki the only known student of the Torigoe Academy in whole Fresh Pretty Cure! series.
Gallery
References
Community content is available under
CC-BY-SA
unless otherwise noted.