Mofurun noticed that this article lacks content or has faulty grammar and information.
She says you can help by
editing
this stub!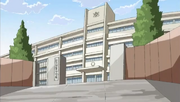 The Public Yotsuba Junior High School (公立四つ葉中学校, Kōritsu yotsuba chūgakkō?) is the school Momozono Love and Higashi Setsuna attend in Fresh Pretty Cure!. Chinen Daisuke and his friends also attend this school. Love, Setsuna and Daisuke are even in the same class and thus help each other a lot during festivals or other occasions.
Uniform
The uniform is quite formal and western. Yotsuba Junior High School is a mixed school. For girls a amaranth blazer with dark pink lining on the lapel and a white shirt is worn under. This also applies to boys. Girls also wear a dull pink mini skirt. White socks are worn with black or brown shoes to finish. Both uniforms have a green and yellow striped tie to adorn the shirt. For boys the bottom is grey trousers. To finish, the socks are worn with brown and black shoes.
Notable Students
Trivia
"Yotsuba" (

四つ葉

?

) is Japanese for "clover", likely referencing Fresh Pretty Cure!'s clover theme.
Gallery
References
Community content is available under
CC-BY-SA
unless otherwise noted.