Mofurun noticed that this article lacks content or has faulty grammar and information.
She says you can help by
editing
this stub!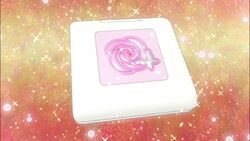 The
Rose Pact
(

ローズパクト

Rōzu Pakuto

?

)
(or
Scrigno della Rosa
in Italian Dub) is an important object in
Yes! Pretty Cure 5 GoGo!
, given to Pretty Cure by
Flora
in
episode 1
.
It has power to retrieve the Four Rulers and gain access to the Cure Rose Garden. Once the key to the Cure Rose Garden is found, the Rose Pact will open up its path. The monarchs and items are also stored inside the Rose Pact after being captured.
The Rose Pact is listed as the most searched item of Eternal and all the members must bring the Rose Pact to the Director.
Power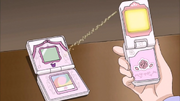 The Rose Pact is a mysterious item that holds a lot of power. In episode 1, the power of the Rose Pact grants the Pretty Cure new items to transform by changing the power of the butterflies of Palmier Kingdom. The girls can also transfer the Palmins from their CureMos into the Rose Pact. That way, they can use the power of the Palmins. After being retrieved, the Four Rulers live inside the Rose Pact until they have re-gained their power and are strong enough to return to their kingdoms. Another power of the Rose pact is to open the gate to the Cure Rose Garden.
Appearance
The Rose Pact is a mainly white device, which looks like a very small laptop. On the top the insignia of the season, the pink rose with a silver butterfly and a single garnet stone, with a pale pink square on the center can be seen. When opened, the Pact shows two screens, while one holds the colors of Pretty Cure 5. The inside of the Pact is pale pink colored and has butterfly details, as well as a purple butterfly under the top screen. The top part of the screen has details that look like curtains.
Trivia
Gallery
Community content is available under
CC-BY-SA
unless otherwise noted.