Mofurun noticed that this article lacks content or has faulty grammar and information.
She says you can help by
editing
this stub!

Draw It Into The Universe! My Own Imagination☆ (宇宙に描こう!ワタシだけのイマジネーション☆, Uchū ni Egakou! Watashi Dake no Imajinēshon☆?) is the 49th and the final episode of Star☆Twinkle Pretty Cure and is the 782th episode of the Pretty Cure franchise overall.
Summary
Everyone has returned to their respective homes. But one month passes, to which it seems Lala and Yuni will return to Mihoshi Town...?
Major Events
Synopsis
Characters
Pretty Cures
Mascots
Villains
Secondary Characters
Trivia
This episode marks the end of Star☆Twinkle Pretty Cure and marks Healin' Good♥Pretty Cure to take its initial time slot.
The Pretty Cure ver. of Sparkle☆彡Star☆Twinkle Pretty Cure is played during the battle.
Per tradition, there is a baton pass message between the outgoing and incoming lead Cures.
Constellation Fortune Telling
Gallery
Main Page: STPC49/Image Gallery
Videos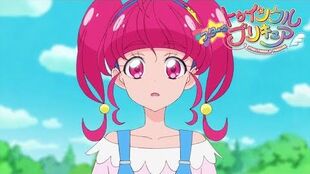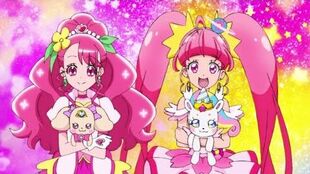 Community content is available under
CC-BY-SA
unless otherwise noted.