Mofurun noticed that this article lacks content or has faulty grammar and information.
She says you can help by
editing
this stub!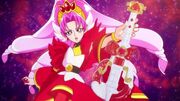 The Scarlet Violin (スカーレットバイオリン, Sukāretto Baiorin?) is a violin like weapon in Go! Princess Pretty Cure used by Cure Scarlet to perform Phoenix Blaze. The weapon made its first appearance in episode 22. In episode 23, it was shown to function like the Crystal Princess Rods, when she used it to perform Scarlet Illusion and Scarlet Spark with the Hanabi Elegant Dress Up Key. She also uses her transformation key to perform Scarlet Flame. Along with the Crystal Princess Rods, the Scarlet Violin gets destroyed by Lock in episode 48, though they had all appeared to have been restored in episode 50.
Appearance
The violin is a white object adorned with line detail, hearts, and small circles going down the center. At the middle rests a red-pink gem on a gold border attached to a crimson plastic bow, resting above a pair of garnet plastic wings. Beneath it is a section of red. On each side, where the 'strings' are located, are two gold curled shapes, along with a unique red designed piece on each side, one of which has a section of white on top of it. On the lower right is a curving heart shape. A thick red stick is included to play the violin.
Trivia
Scarlet's violin was born from Prince Kanata's violin which was formed by their family bond.
Gallery
Community content is available under
CC-BY-SA
unless otherwise noted.