Mofurun noticed that this article lacks content or has faulty grammar and information.
She says you can help by
editing
this stub!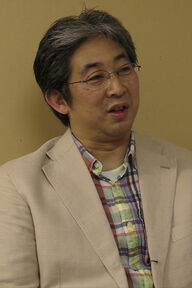 Shimizu Junji (志水淳児, Shimizu Junji?) is a director and storyboard artist affiliated with Toei Animation.
He directed the first three feature-length films of the Pretty Cure franchise, and episodes starting with Yes! Pretty Cure 5. He would then become the series co-director for Fresh Pretty Cure!, and the main director for its movie.
Work in Pretty Cure
Series
Year
Episode Director
Storyboard
Series Director
Futari wa Pretty Cure Max Heart
2005 - 2006
❌
❌
Movie 1, Movie 2
Futari wa Pretty Cure Splash Star
2006 - 2007
Movie
Yes! Pretty Cure 5
2007 - 2008
10, 18, 29
❌
Yes! Pretty Cure 5 GoGo!
2008 - 2009
38
Fresh Pretty Cure!
2009 - 2010
01
✅
Movie
Heartcatch Pretty Cure!
2010 - 2011
08, 20
❌
Doki Doki! Pretty Cure
2012 - 2013
❌
New Stage
Go! Princess Pretty Cure
2015 - 2016
❌
The Spring Carnival♪
HUGtto! Pretty Cure
2018 - 2019
07, 14, 23, 34, 44
❌
Star☆Twinkle Pretty Cure
2019 - 2020
13, 24, 35
05, 13, 24, 35
Healin' Good♥Pretty Cure
2020 - 2021
07, 13, 21, 29, 39
03, 07, 13, 21, 29
Tropical-Rouge! Pretty Cure
2021 - 2022
06
06, 41
Movie