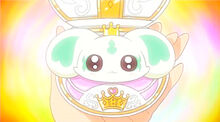 The Touch Commune (タッチコミューン, Touch Commune?) first appears when Pollun awakens to assist Hikari's transformation. Unlike the Card Communes, this does not come with cards.
Appearance
Unlike the cellphone appearances of the other Communes, this form resembles a makeup compact. It's mainly white, with light pink inner-detail and a small heart-shaped button resting on a gold crown beneath a window for Pollun.
The top of the lid is partially turquoise with gold designs and a ribbon in the middle. On the front are a pair of hearts, one upside-down.
Uses
While this form does not use cards, it works like the others, allowing Hikari to transform into Shiny Luminous by waving her hand over it and shouting "Luminous! Shining Stream!" when she begins the transformation.
Gallery