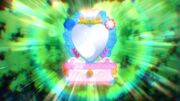 The Tropical Heart Dresser (トロピカルハートドレッサー, Tropical Heart Dresser?) is a weapon used by the Cures from Tropical-Rouge! Pretty Cure, which was first used in episode 29. This allows the Cures to transform into their Excellen-Tropical Styles, and perform Land Beat Dynamic and Marine Beat Dynamic.
Appearance
Uses
The Cures use the Tropical Heart Dresser to purify the enemy. It was first used to perform Land Beat Dynamic in episode 29.
It can also be used to perform Marine Beat Dynamic, which was first performed in episode 37.
In the movie, the Cures use it to change into their Snow Crystal Tropical Style forms and to perform Heart Shining Orchestra.
Trivia
The Tropical Heart Dresser was originally the dresser that the Tropical Club made for their make-up lessons in episode 28.
Gallery