Mofurun noticed that this article lacks content or has faulty grammar and information.
She says you can help by
editing
this stub!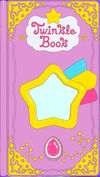 The Twinkle Book (トゥインクルブック, Twinkle Book?) is an item in Star☆Twinkle Pretty Cure. It is a magical book that Fuwa lives in and an important tool for Pretty Cure. According to the prophecy, if the Pretty Cures have this book, they can help regain the universe's light. It first appears in episode 1, when Fuwa creates it from Hikaru's notebook.
Appearance
The Twinkle Book, after it is transformed, is purple with gold patterning around the edges. The outline of a star with three tails- blue, yellow, and red- is in the center of the book. A cloud decal with the words "Twinkle Book" on it is near the top of the book, with a yellow star directly above it and a small outline of a yellow star on either side. A pink teardrop-shaped- jewel with a white outline is near the bottom of the book, with a picture of the Little Dipper to the left of it and the Big Dipper to the right. The top right area of the top of the book has a hole in it to place the Star Color Pens in. The pens are inserted inside when it is time to revive the Star Princesses.
Uses
In the anime
In the anime, Fuwa occasionally retreats into the Twinkle Book when she needs to rest. As well as being essential to help revive the Star Princesses, the Cures can also give Fuwa food by tracing stars on the screen to form items such as milk or a fruit parfait. The items then appear in real life.
As a toy
Various games can be played on the Twinkle Book. They fall into five categories: care, items, starry sky, apps and fortune-telling.
Gallery
Community content is available under
CC-BY-SA
unless otherwise noted.