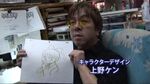 Ueno Ken (上野賢, Ueno Ken?) (also credited as 上野ケン[1]) is an animation supervisor, key animator and character designer working on the various Pretty Cure anime series and movies.
He was the character designer for the Heartcatch Pretty Cure! movie, the Doki Doki! Pretty Cure movie, the Mahou Tsukai Pretty Cure! movie, and the Tropical-Rouge! Pretty Cure movie. He has been working in key animation and animation supervision for Pretty Cure since 2010 and has been employed by Toei Animation since 1990.
History
Ueno was born January 7, 1962, in the Iwate prefecture. In the past, he also lectured at Toei Animation Institute. After graduating from animation university, he worked at an animation studio located in Ōizumigakuen. He produced in-between animation at first, then key animation and animation supervision afterwards and worked as a freelancer for several years. In 1986, he worked for Studio Hibari. He also did freelance work for Studio Sunrise, Studio AIC and Studio Deen.
After Toei Animation's Utsunomiko: Heaven Chapter OVA (1990) for which Ueno produced Key Animation and also worked as an Animation Supervisor, he was permanently employed at Toei Animation. He did the character design for the Mamotte Shugogetten anime (1998) and for GeGeGe no Kitaro (2007). Since 2010, he is heavily involved in Key Animation and Animation Supervision for Pretty Cure. [2]
His animation is known for energetic expressions and for its thick and yet refined linework. His character design features impeccable fashion sense, his Cure Mofurun design especially striking for its refreshing take on Cure concept norms. He was described as "one of Toei's invaluable animation assets" by Sakuga Blog – The Art of Japanese Animation[3].
More details about his work on the Mahou Tsukai Pretty Cure! movie were shared in an interview in Animage's Pretty Cure issue (2016).
Work in Pretty Cure
Series
Year
Key Animator
Animation Supervisor
Heartcatch Pretty Cure!
2010
10, Movie
Movie
Pretty Cure All Stars
2010, 2012
DX 2, New Stage
None
Suite Pretty Cure♪
2011-2012
24, 37, 41, 46
13, 21, 30, 39, 46
Smile Pretty Cure!
2012-2013
03, 09, 23, 29,
39, 41, 47, Movie
09, 19, 29, 39, 47
Doki Doki! Pretty Cure
2013-2014
01, 06, 11
06, 12, 19, 46, Movie
Happiness Charge Pretty Cure!
2014
01, 03, 06, 12, 17,
23, 24, 30, 44, Movie
06, 12, 23, 36, 44
Go! Princess Pretty Cure
2015-2016
01, 04, 05, 08,
22, 29, 38, 43, 47
01, 05, 08, 11,
18, 23, 29, 38, 47
Mahou Tsukai Pretty Cure!
2016
01, 06, Movie
06, 13, Movie
KiraKira☆Pretty Cure A La Mode
2017
01, 05, 14
05, 14, 24, 32, 41
HUGtto! Pretty Cure
2018
07, 11, 17, 22, 29, 38
07, 17, 29, 38
Star☆Twinkle Pretty Cure
2019-2020
01, 09, 22
01, 09, 17, 29, 35, 39, 46
Healin' Good♥Pretty Cure
2020
OP, 03, 10
07, 15, 22, 31
Tropical-Rouge! Pretty Cure
2021
01, 10
01, 10, Movie
Transformation/BANK
Gallery
Character Design Samples
Interviews
Artwork
Episode Screenshots
References