รัชชัย
Ratchai Udomkrittayachai
{{{katakana}}} Ratchai Udomkrittayachai
[[Image:{{{image}}}|{{{imgsize}}}]]
Description
Age
29
Gender
Male
Eye Color
Black
Hair Color
Black
Home Place
55, Bang Bon 3 Soi 8, Bang Bon 3 Rd., Babg Bon Tai, Bang Bon Bangkok 10150, Thailand
This is your user page. Please edit this page to tell the community about yourself!
My Profile
Name : Ratchai Udomkrittayachai
Nickname : Best
Birth : Monday, September 10 , 1990 (B.D. 2533 / Heisei 2 / Rattanakosinsok 209 / Jullasakkarat 1352)
Birthtime : 11:48 A.M. (11:48 H.)
Zodiac : Leo (Thai) , Virgo (Inter)
Shadow Name : The Killer of Fried Rice (เพชฌฆาตข้าวผัด)
Primary School Sucess : Joseph Upatham School
Secondary School Sucess : Panyaworakun School
Major Education : Computer-Science Suan Dusit University
The Best Year of Education : 2006
My Pretty Cure Wiki  
Hall of Prett Cure Wiki  (The owner of Wiki : 2014 - Present) 
2020
1st
2nd
My Pretty Cure Games
The Best Rank 2019
My Other Sites
2019
Top 10 Like Forever of Precure's Characters
1st Yukishiro Honoka / Cure White
2nd Hanasaki Tsubomi / Cure Blossom
3rd Arisugawa Himari / Cure Custard
4th Yakushiji Saaya / Cure Ange
5th Mishou Mai / Cure Egret
6th Izayoi Riko / Cure Magical
7th Hishikawa Rikka / Cure Diamond
8th Aoki Reika / Cure Beauty
9th Minamino Kanade / Cure Rhythm
10th Minazuki Karen / Cure Aqua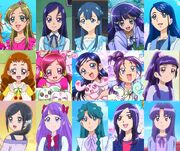 My favorite Movies of Pretty Cure
ตTop 10 Movies of Pretty Cure
4th HUGtto! Pretty Cure♡Futari wa Pretty Cure: All Stars Memories
6th Pretty Cure All Stars: Minna de Utau♪ Kiseki no Mahou!
10th  
My favorite Pretty Cure's Character
Community content is available under
CC-BY-SA
unless otherwise noted.