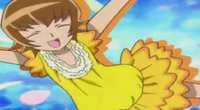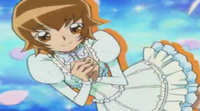 Hello, I'm Chris. I've known about the series before Pretty Cure 5 started- but it actually wasn't until then that I found out what it actually was. I didn't officially join the fandom until Heartcatch though; being the season that pulled me in.
I do all sorts of wiki stuff but my most favorite is to edit/add Descriptions to things like items, outfits, episode summaries, etc. Feel free to say hi~
I'm honestly still back in Princess Precure due to other series work I've been doing, but I do stay up to date regarding everything else. I didn't really care about Twinkle Star at all, so I'm anticipating getting back into the series with the next one!
Merchandise I Own
Fresh Pretty Cure DS
Heartcatch Pretty Cure DS
Suite Pretty Cure DS
Nendoroid Cure Blossom figma/Figuarts
Cure Blossom Figma/same as above
Cure Sunshine Figma/same
Cure sunshine chibi/nendoroid styled plush.
Coloring book from New Stage 2
Color Wonder Happiness Charge coloring book
Cure Twinkle Drink cup (2 of them in fact)
DokiDoki Pretty Cure Narikiri Life 3DS
Happiness Charge 3DS Game
Cure Ranks/Opinions
Current Top 10
Sunshine
Blossom
Macherie
Macaron
Whip
Magical
Miracle
Sword
Happy
Peace
Pretty Cure/Max Heart
Black: I love pink and black, and in general I like Nagisa.
Shiny Luminous: she's so adorable~
White: While she was a typical blue girl, I liked how she could still be bold sometimes.
Splash Star
Bright/Michiru: I really like her, not entirely sure why but I do.
Bloom: I wasn't crazy over her colors, but at the same time they were kind of unique when you look at Cures now. I liked her.
Egret: I liked how she was an art focused Honoka, and she's really cute.
Windy/Kaoru: I didn't really have much opinion on her.
5/Go Go!
Dream: I could sympathize with Nozomi for having so much difficulty at first, but I liked how she was capable of switching from being the cutesy airhead to a serious and capable leader. I kind of came to view her as being inspireable.
Lemonade: She's so cute! Even though I hate yellow, she kind of helped me open my mind more towards yellow cures because I ended up liking many of the ones following her too.
Milky Rose: She was cute as a mascot and I loved the concept of one transforming into a human and Cure.
Rouge: She was so cool, and even though she's a typical red girl, I liked how she also had a girlier side.
Aqua: She was a little boring but I liked seeing her character developement.
Mint: She's sweet and all, but she bored me.
Fresh
Passion: I was happy to see a Cure bringing back black x3 and everything about her was just amazing to me, especially the build-up to her joining the team. 
Pine: She's so adorable! I love animals but I always found her behavior around them amusing.
Peach: I love her outfit and hair, but her normal self was a bit generic in my opinion.
Berry: 

            

I like her but sometimes she could be a little annoying <_< I also couldn't get over that ridiculously boring model walk in her transformation.
Heartcatch!
Sunshine: I have no problem admitting I found Itsuki very attractive. I love her cure form a lot and the overall warmth I feel seeing her, and on sunny weathered days I like to think about her~ We both also love cute things, and my Cure Sunshine stuffed doll is one of my prized possessions.
Blossom: I adore Tsubomi! She's adorable and I actually liked how she was a lead cure with some incompetance because it was so unusual in this series so far. I also found her very easily relateable personally.
Moonlight: She's very pretty. Her backstory made me so sad but when she joined the group I was very happy! Like Passion, I also like how heavily contrasting her outfit is to the others.
Marine: She's really cute and funny.
Suite
Melody: She was so funny, and I really like her light pink hair in contrast to her brighter outfit.
Beat: Was I the only one who thought her Cure form resembles Berry? I love cats so I instantly liked Siren. I also like how despite how serious and reserved she comes off, she was a passionate non-red character, and she could be a bit eccentric at times.
Muse: I really liked the concept behind her, and her cure form is adorable.
Rhythm: I like how she brought back white as a cure color, and how she looks, but besides her baking interest I didn't like Kanade as a person at all. I don't know why, she always rubbed me the wrong way. I can tolerate her though, and I don't hate her or anything.
Smile
Peace: She's an adorable crybaby I just wanted to hug! 
Happy: I adore Miyuki, I don't really have a long winded reason as to why, I just do.
March: As the second Green Cure, I really liked Nao and found her way more interesting than Mint was. She was bold and calm in spirit, but she cared deeply for others and what interests she had; but she also had a sensitive side. I liked the complexity behind her.
Beauty: Typical blue girl but I still like her. 
Sunny: Same as above, but red.
Doki Doki
Sword: I really like how she's an idol singer, and the lavender color theme she has. Although I do wish I could see her in pink too~
Heart: I liked how different she was from past leads. I wasn't expecting such a competant and studious Pink Cure XD
Rosetta: She's so cute, and I really liked the touches of green to her cure outfit.
Diamond: I didn't like her, like at all. She's okay but she just didn't really resonate with me.
Ace: I like her concept and as Aguri I liked her a lot, but besides her cure forms look and abilities I don't like her much. 
Happiness Charge!
Fortune: I like her but her Cure name was always weird to me since it stands out in comparison to the others. Or is it just me?
Honey: I naturally took to her friendly and kind personality.
Lovely: She annoyed me a little, I'm not really sure why. I go through phases when I like her, then when I don't, then I do, then I don't...
Princess: Like Tsubomi, I felt empathetic towards Hime and could relate to her. But I essentially see her as an intense Erika and after going through the season again, I'm just meh about her. 
Go! Princess Pretty Cure
Flora: She's so cute x3 I've always liked princesses and flowers, and I love her cure outfits and hair.
Scarlet: She's like a more regal version of Passion x3 I really liked her.
Twinkle: I like Kirara a lot, especially with how they brought another new persona for Yellow Cures to the mix.
Mermaid: I like her, maybe even more than most other blue cures, even though she felt flat in comparison to the others in the group.
Mahou Tsukai Pretty Cure!
(This is where I left off, so these seconds will be updated when I resume)
Magical
Miracle
Felice
KiraKira Pretty Cure
Macaron
Whip
Chocolat
Parfait
Gelato
Custard
HUGtto!
Macherie
Yell
Amour
Ange
Etoile
Star Twinkle
Star
Milky
Soleil
Selene
Cosmo
Healin' Good
Favorite Images
Favorite Puzzlun Images
Community content is available under
CC-BY-SA
unless otherwise noted.