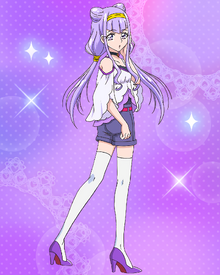 Since I love these two Cures (Milky Rose and Amour), because Kurumi and Ruru are the Purple Kawamura Cures. There are he 18 total of Kawamura Cures (17 are female, and 1 is male). In other occasion, Yes! Precure 5 GoGo! was the Precure version of Mirai Sentai Timeranger, Smile Precure! was the Precure version og Tokusou Sentai Dekaranger, while HUGtto! Precure was the Precure version of Tensou Sentai Goseiger, which Milky Rose was called the Cure version of Time Fire, while Cure Amour was the Cure version of Gosei Black.
My favorite Cures
Community content is available under
CC-BY-SA
unless otherwise noted.