Great Detective Komachi's Entrance! (名探偵こまち登場!, Meitantei Komachi Tōjō!?) is the 9th episode of Yes! Pretty Cure 5 GoGo!, and also the 203rd episode of the Pretty Cure franchise overall.
Summary
After accusations get thrown around Komachi decides to play detective to determine who stole the cake Karen brought to Natts House.
Major Events
Milk's Blue Rose suddenly glows a light that engulfs her.
Synopsis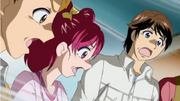 Everyone prepares to dig into the cake that Karen brought to Natts House. Syrup refuses to have any, although he seems to want some. Before Nozomi is able to finish dividing it into eight pieces, they suddenly realize they forgot something and run off to fetch it. In this time, the cake suddenly vanishes.
They return to find the cake gone and are beyond shocked by this. Suddenly, they notice it's raining outside and thunder starts to clap in the distance. They try to look for the cake, Komachi dons a detective outfit and she speaks to everyone in a private session to try to determine what happened to it. First she starts with Rin, who is able to prove she had nothing to do with it. She then turns to Karen, but she also has proof and soon an arguement disrupts between Urara and Nozomi after Urara voices concern that Nozomi and Syrup may have done it.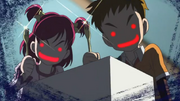 Coco attempts to stop them from fighting and he tells everyone to shut their eyes and raise a hand. But nobody does other than him, so when he looks to see this, they accuse him of stealing the cake, causing him to get frustrated.
At this time, Bunbee arrives and he prepares to make a Hoshina. But they distract him by asking if perhaps he ate the cake when they spot cream on his lips. The girls waste no time changing into Cure form and they prepare to fight him- ignoring his Hoshina until he flees for his life.
By now the girls wonder who could have done it, when suddenly Mailpo appears. He reveals he stole the cake, but he didn't eat it. He reveals the cake he hid and shows them that a piece is missing, but he apparently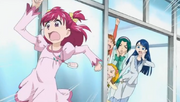 didn't take it.
It's then Nozomi comes into the room and admits that she ate the piece of cake missing. After she apologizes, the other four angrily call her out on this and she quickly flees the building.
In this time, a letter from Milk arrives. She tells the group that she has been growing a blue rose and it has been shining brilliantly.
Characters
Pretty Cure
Mascots
Villains
Trivia
Errors
There are two continuity errors in this episode:

When Komachi was pondering about in five minutes time when everyone prepared the cake, Syrup was in his human form as Shiroh. But then seconds later, he was back in his fairy form.
In one shot, Mailpo was absent, but then seconds later she appeared on Syrup/Shiroh's shoulder.
Gallery
Main Page: YPC5GG09/Image Gallery